A dry wind pushes through the garden, fanning the Flags of the gathered nations into a frenzy, their colors whipping the air as though to subdue it. A small army of of attendants, footmen, guards, maids and lower officials dart in and out of the courtyard both trying to remain unseen and to accomplish their duties. For now, the table which will soon be alive with discussion and debate is quiet and immaculately set with bowls of dates and halwa and pitchers of spring water shipped in from Persia. Name plates, made of Ivory and marked with black ink are placed at each seat, carrying the names of the most powerful people to roam the Earth. Never Before has such power been congregated in one place.

At the front of the palace a crowd of hundreds have gathered, dressed in the colors and clothes of their tribes and people, it is a sea of color roaring with conversation and anticipation. In front of all of this, upon the limestone steps stand the head ministers and assorted advisors of the Caliph, anxiously waiting for the Caliph and the rest of the delegations to arrive, if only to get out of the oppressive heat. A man appears from the large doors of the palace and make an announcement, "Brothers and Sisters, the Great and Noble Caliph Abu Bakr Abdulahi Ibn Battuta, will make an announcement before the arrival of the delegations." With this the crowd becomes silent that the waves of the Indian Ocean can be heard beyond the walls. The doors open and out walks the Caliph with his wife and attendants before stopping at the top of the steps.

"Bismillah, al-rahman, al-rahim, al-hamdu Allah. Assalam wa-alakum. My children, Allah smiles upon our great and noble Caliphate on this day. He has allowed us to host some of the most powerful and noble men on this planet, that we may lend our ears, and our hearts to their desires, wishes and needs in accordance with his wishes. Though it is true that we have, at times lost our voice with these noble states and had to resort to violence, it is my devout wish that we not do so any longer. That from today forward we may be able to meet each other on a level ground and that we may all treat each other as friends or, at the very least, fellow men and women of the same Earth. And so, insha'llah, today there will be listening and tomorrow there will be thought and the day after, progress towards a peaceful future. Salam."

With this, the crowd bows which the caliph returns before walking back inside. Once again the man comes back to the steps and announces further: "Each of the delegations have been asked to prepare a few words upon arrival which they will say here. Salam."
The caravan of cars arrives.

Back in the garden, the Caliph sits in his chair with a sigh, looking out over the table before him, remembering the placements of the placards, he closes his eyes. "It begins."
At first the eyes of the crowd meander searchingly for someone important, following the cars as they come in turn to a final halt. At the lead of the caravan is a long wooden carriage pulled by a team of stocky, chestnut horses. The driver leaps down from his seat and pulls open the door, prompting the whispering crowd to part. From within emerges, one by one, a total of eight tall figures dressed in robes as grey as their aged heads. Out of the shadows of their hoods, weathered faces and silver beards could be partially distinguished. They formed parallel lines of four, facing the palace, and then became still and silent.
With the crowd's gazed fixed on the grey robes, few noticed as a silver-colored mare fell out of the line of the caravan, until it stepped between the two lines of robed figures. Atop the grey horse sat a towering man with a body like stone, a face like ice and short hair on his head and face that was as black as night. He was adorned in vestments of black, white, and gray, with the symbol of a dragon emblazoned on his chest in dark blue to match his cape. A few turned away their eyes as the sun glinted off the silver circlet upon his head.
As he swung a long leg over the mare and dismounted, a pair of visibly overheated guards in bright armor rushed to his side, but he waved them off subtly.
The stony man then takes a first step toward the palace gates, and the robed figures match his strides and follow him on either side, leaving the gray horse behind. The nine silent figures climb the palace steps with muffled footfalls, then turn toward the crowd as they fan out into a single row.
A rumble of many tones then erupted, a sound like wind over the mouth of a cave during a roll of thunder, or the howl of a wolf ringing over the roar of a bear. In moments the crowd came to realize that the sound carried a kind of melody, and the figures in gray were performing a song in a strange throat-singing style. As the throat-song faded, the center figure raised his head. His voice boomed over all and drowned out the sound of the waves.
"Skol, people of Mogadishu. You are loved by the Sun. I am the Northern Drake. I am the Voice. I am Wind-Shouter and Mountain-Whisperer, Fire-Banisher and Sea-Strider, River-Catcher and Storm-Eater. I am Hjaltur Baurlantr, High King, Imperator of Nortlendiga and the Nortlendic people. I come here, along with my companions of the Silent order, bringing prophecies of joy and triumph, as well as wise foreboding. Would that good may come to all who live as an outcome of this historic gathering. May all of us be gifted with knowledge of the power of Words, and the power of Silence. So mote it be." The gale of Hjaltur's voice receded, and its echoes rolled away into the distance. The Imperator turned with measured precision in his movements, and allowed an attendant to escort him through the palace door. The door closed, and with no sound the gray monks walked back to the caravan, their hoods still shrouding all identity, and filed back into the carriage, now invisible to the crowd.




Posts

: 13


Join date

: 2016-01-14



After the Imperator finished his dramatic speech people would realize that waiting for their turn to walk up, were three figures. Two of them wore long black trench coats, black pants, black shoes, even black sun glasses, everything was black even in this heat and they didn't seem to be bothered. They were on either side of a man wearing a modern black business suit with a dark crimson tie, his eyes matched the crimson color, showing he was a man of a specific brand of fire magic only used in the western nation of The Imperium. He also held at his side a staff made of what looked like woven metal, men and women of the Imperium always kept their staff with them, no matter where they went. People would glance around to find their mode of transportation and would not be able to find it, what ever had brought them here was gone.

The man in the suit walked to wear the speeches of the previous leaders had been made and cleared his throat, his voice obviously being amplified by his own magic. "Men and Women of the Caliphate, my name is Matthew Gallion, Prime Senator of the American Imperium. I stand before you today as someone who hopes to forge new friendships and lasting peace, though our people have never quite seen eye to eye. We use magic in our everyday lives, and it flows through my very veins, while you rarely even tolerate it. But here I stand, using it to speak to you, looking at you all through eyes that mark me as a fire mage by birth. Years ago, this would not have been possible, but now a bright new future breaks into dawn for all of us, a new world brimming with possibility and promise. And to get there, old bitterness must be brushed aside and forgotten like dust from the pages of a story, whose words speak of freedom and peace and prosperity."

He stood in silence for a few moments before smiling softly and nodding for a moment "Today is a new beginning for our world, and I truly hope with every fiber of my being that everyone who hears the words of all these leaders, and all the leaders who enter into these talks, understand that." He turned swiftly and walked towards the place they were to be meeting for the actual discussion, hoping his speech hadn't offended any of these people, he was here to make allies of people who couldn't have been more different than his own. He hoped he was up to the task.
As the Prime Senator turned away from the crowd a large four wheeled jeep rolled to a stop in front of the palace. Dust seemingly billowed around the rugged truck, and the material shielded it's passengers from the scorching sun. The drivers, soldiers that were dressed in khaki shorts with long sleeved loose white shirts, practical sandals and protective goggles, exited the front most part of the vehicle to open the back flaps. Mist billowed out of the truck and two figures exited, not that the crowd could see them until they were climbing the steps away from it.

The soldiers flanked the two men, whom appeared to be polar opposites in their demeanor and style of dress, as if they were of different nations. The first man had a muscular build and wore a black vest fastened in the traditional style of his region with a hood attached, which he wore up to protect himself from the sun. His shorts were the color of his national flag and he wore leg skins under those, promoting his nations expertise in the tropical oceans, along with practical sandals. The other man next to him was of a smaller stature and more formally dressed; he wore a golden dress shirt with traditional designs in front, and baggy black trousers, but wearing similar sandals made with more expensive material.

Once they both reached the top they turned to face the crowd and inclined their heads. The golden man cleared his throat and brandished a parchment paper to read from.

"Hariyagit Kasanji would like to send his kindest regards to The Somali Caliphate of Al-Sahar, as do I his translator, Councilman Chu of Tainu. He hopes the world continues to thrive in this era of peace and that your land is blessed by your deity."

The silent Hariyagit of the Coalition nodded his approval of his fellow countryman and smiled at the crowd before they both turned away and entered the palace.




Posts

: 5


Join date

: 2016-01-14


Age

: 23



An elegant horn sounds. It begins deep and powerful like the depths of the sea and then it rises to a clear bright sound. The tone fades leaving ripples of its sound among the crowd. From the docks the horn's origin can be found. Waiting patiently is a small host of soldiers clad in silver clothing, standing alert. They cleanly step aside allowing a robed figure to emerge tailored in a royal purple. At first glance the being appears to be ethereal. Like a phantom walking through the physical world, powerful and untouchable. It is uncertain if it is a trick of the light or of magical origins for, as he steps, the illusion is gone if it was ever there to begin with. The phantom is now an ancient man, marked by time. His robe layers his bent frame and gives him a silhouette that would make a warrior proud. The man walks forward with purpose and dignity, sunken blue eyes fixed ahead. Around his neck he wears the silver pendant of the Yhagon people, bearing the symbol of the broken circle.
Beside him walk two other men, representatives from the Yhagon Court. The three continue on their path toward the palace and pause just before entering.
The old man turns and addresses the crowd for the first time. His voice tumbles like a river. "Good people of the Somali Caliphate, I come today on behalf of [i]Yhagon[i]. We are honored to walk these lands as guests. I am Sga. Aletag and accompanying me is Ratil Volumron and Sal Tayir. I know that the utterance of Yhagon on this land may not sit well with you now. But I believe that our fine nations are more similar than different. I know that we may learn many things from the Somali Caliphate and that you may learn much from us. It is my wish that our nations cease this hostility and treat each other as equals. This is how we achieve progress, and this dream, I believe, is an achievable one. Time shall tell."

With his speech over, Aletag turns once more with the representatives and enters the palace. His eyes remain stern and guarded.



Posts

: 3


Join date

: 2016-01-18



Once all of the dignitaries and leaders had settled around the table and the room had quieted, the Caliph, in his white robes stood up and surveyed the table. Everyone was accounted for and now the real work was to begin. The caliph raised both his hands before him and began in a serene yet firm tone,
"Salam my friends. First, I must thank you wall for accepting my invitation to come to this most auspicious conference, the likes of which have never been seen on this planet. I need not remind you of the importance of this meeting, indeed, your very presence is a testament to that. But I would be remiss if I did not at the very least mention my hopefulness for this meeting and what it has the potential to create for all the people of this planet. But I must also spread a word of caution. If we err in this meeting, the is the possibility that all our hopes, aspirations and expectations might collapse and with them the world might be plunged into unrest. Me must avoid this."

The Caliph stopped and once again surveyed the faces around him, imagining what they might each hope to take away from this meeting. He continued,
"The world is changing, much as it always has. And it will certainly continue to change. Our states grow, and as they grow the possibility of conflict grows with them, we are not strangers to this conflict. But we cannot only think of our own states and the people within them. Outside our borders there are other peoples, diverse peoples. They are not 'uncivilized' as some would say. They are merely existing in a way that works best for them. As such, we must keep their rights in mind as well and not be so brash as to think that we can destroy their cultures without a second though. They live here too, and we must be accepting of them. Now, let us begin with the conference and, Inshallah, we will usher in a new era of peace and prosperity."

With this, the Caliph sat down and stroked his beard. There was no way of knowing, based off of expressions alone where this conference would lead. He took a sip of water and waited for the silence to be broken.
Matthew Gallion considered the Caliph's words for a moment before speaking, these world leaders probably know quite a bit about the various encounters between The Imperium and these...other peoples. ((see factbook))

"I agree completely that we must look after those people who have opted to live in alternative ways to our own, they do not have the same resources and strengths that we all do. Though many groups of these people are very independent and do not like the idea of joining into a larger empire, and in that lies an issue.  We all have growing populations, we all have growing need for resources, and need for space." He waited a few moments before continuing "As you say, our states grow. As they grow they come into conflict with these groups, many of which simply refuse to allow expansion in a peaceful way. In those situations, are we simply to stop the project, or forcibly continue? This is a question we all must ask ourselves in the future, for consequences of expansion have already begun to arise." He said finally getting to a real point

"The Atlantic ocean has become rank with pirates and their ilk, getting here was a far more harrowing experience than it should have been. The American Imperium is going to begin tracking their ships and systematically getting rid of them once I return, but we can't do it alone. I suppose one of the issues I would like to bring up today is how we, as the Empires of this world, are going to handle the marauders at our borders."
Hjaltur Baurlantr's face became stern. At the close of Gallion's last words, he stood from his seat and spoke.

"Skol!" The forceful noise of his exclamation startled the attending servants, who after a moment's pause all appeared more attentive and busy. Then Hjaltur hushed his voice, and continued in a rich, low, almost melodic tone that seemed to put the servants back at ease.
"Indeed, I bring shadowy tidings from the seas, tidings of treachery from our neighbors."
He shut his eyes and inhaled deeply. As he did so, the light streaming through the windows shone on him more brightly, until his skin glowed. When he exhaled he opened his eyes, which blazed like tiny suns, and as he spoke a bright fire broke out atop the table, though it created no heat.
"One month ago, pirates of the Mediterranean captured three merchant vessels en route to Alexandria." As he spoke, the fire bent into flickering images to match his description-- in the flames could be seen three large ships moving and rocking as though over water, their sails drawn by the wind.
"The ships carry a cargo of expensive dyes and fabrics, though this is far from my gravest concern. Among those crew-members which were not immediately executed by the pirates is Deorvaen Arn, appointed heir of the Master of the Sailor's Guild of House Arn in the Kingdom of Sverige." The flames shifted to show a badly-bruised Nortlendic woman bound to the gunwales of a ship by chains, with a pair of armed guards on either side of her. Blood dripped from her nose and mouth.
"Her renown and her importance to the Sveric economy are apparently known to the brigands, who demand a ransom of forty-thousand silver drakes. The Seers tell me that so far, they have executed another one of her crew members for each week they have remained in captivity, and we can naturally expect the trend to continue. Now, as a rule, the Thrones and Councils of the Empire do not pay ransoms, lest we give incentive to future captors. Thus, a covert force from the Order of Ravens is on its way to silence the captors and recover our people. This is where the scale of the issue broadens..."
The fire snapped to an image of a port village spanning a spattering of small islands, its huts and docks surrounded by menacing walls of wooden spikes.
"The pirates have taken the captives and their vessels to the port of Venik, controlled by the Slaktivrg tribe. Their name means slaughter-eager, and they have terrorized their neighbors for generations. Only now do they summon the gall to attack the Empire. The Seers know that when we extract our sailors by force, the Slaktivrgs will declare war on Nortlendiga, as will their allies in the Alps." At this, the others in the room leaned forward with somber interest.
"The Throne's ambassadors have spoken with the chieftains of the Southern Italian tribes. Long have they suffered under raids and subjugation from the people of the Alps. Each chieftain has pledged their warriors to battle against the Slaktivrgs, and they have offered fealty to the Empire in exchange for our protection should we succeed honorably in this conflict." the many faces of the Southern Italian chieftains now emerged in the fire. Then Hjaltur's eyes dimmed, and the fire vanished as if suddenly blown out. The Imperator sat again.
"Fellow leaders, hear me. We embark on the first step in freeing the mighty seas. The American Imperium, at least, if not all of your nations, may have a stake in this fight." He nodded to Gallion. "To hunt the pirate ships is noble, but the hunt will never end until we pacify the sources of these ships and their cutthroat captains. Firstly, I bid you recognize Nortlendic rule over the whole of Italia when we are victorious. Secondly, I extend my shield-arm to all those nations who would support us and our legions in this fight for Northern Italia, whether with men, ships, arms, or funds. Those who thus support Nortlendiga will count us as friends in favorable trade and diplomacy, and may count on reciprocal support against pirates or raiders near your own territories. These words I bind here, in good faith, by the light of the Sun. Blessings and fair winds to you, my brethren." With this Hjaltur Baurlantr fell silent, and became still as the mountains in his seat.



Posts

: 13


Join date

: 2016-01-14



As the leaders were speaking, Councilman Chu was leaning close to Hariyagit Kasanji to translate their words and receive an answer. Once the Imperator sat down, the Councilman cleared his throat.
"Hariyagit Kasanji would like to offer our latest ocean technology to those facing the threat of pirates. Unfortunately our nation is still recovering from a turbulent disaster affecting our southern most islands. These area are where most of our resources for producing more ships are mined. We implore the wealthier nations to send us aid financially and to help supply our citizen with their basic needs of food, shelter and fresh drinking water." The translator paused and exchanged a few words with his leader before adding. "Hariyagit Kasanji will personally escort any willing nations en route to our islands as a precaution against any pirates that you may encounter. Meanwhile a few of our council will send any available ship once the relief effort is controlled."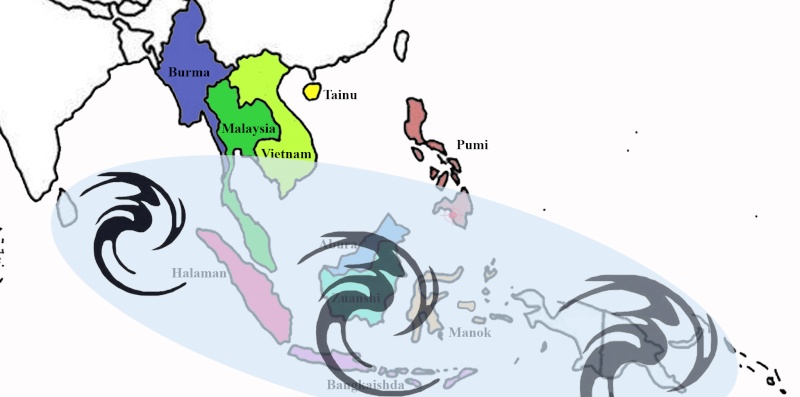 Posts

: 5


Join date

: 2016-01-14


Age

: 23



Gallion nodded at the leader of Nortlendiga thoughtfully, in his own mind he was commenting on how boisterous and ridiculous he sounded, but on the outside he was nothing short of respectful. "The American Imperium hasn't sent troops to the other side of the Atlantic in years, perhaps that is why these pirates have deemed it worth while to target us. That will change. The Imperium Navy will of course aid you in the efforts to uproot these pirates." He turned to the people of the coalition and stated "I would be willing to send relief to your islands to help rebuild, but this takes resources and man power, two things that the Imperium has been....relecutant to give up since the travesty of the Autumn Purge. Unrest in the acquired midwest and southern regions of central North America have been a drain on our resources, as we try and civilize the area. Sending relief to a country we have had little relationship with would be a very hard sell with the Supreme Senate, unless we were assured more than a few ships out of the deal."
The Caliph was disinterested in conversations relating to the non-issue of piracy. Pirates have always existed in the world and they will continue to exist. As for right now, the caliph had real issues to contend with. The Caliph rose and pushed in his chair.
"Friends, though I would love nothing more than to offer my support in the operations against piracy, alas, I cannot as I have other issues to deal with right now so I must leave the conference. However, my Minister of Defense, Talian Khotash, will sit in for me. I apologize for this inconvenience. Have a nice day."
With this, the Caliph left the room and was replaced by a tall man with a full beard dressed in in a tan military uniform with a maroon beret.
"Shalom. A few orders of business before we resume. First, I will ask that your Excellencies not leave the compound for a while without the presence of authorized authorized security personnel. Second, we ask that you dismiss any non-essential personnel from the city. Thank you." Talian then took his seat and opened a folder prepared by the government for this conference but he still felt unprepared.

---
Permissions in this forum:
You
cannot
reply to topics in this forum